Here are some takeaways from the "2017 Fall Workshop" presentations -"90 people die each day in the US as a result of vehicle crashes!"
- "The average text takes 5 seconds, in which time your vehicle travels the length of a football field."
- "78% of people who die as a result of a motorcycle crash were not wearing a helmet!"
- "39% of the people who die as a result of a motorcycle crash have alcohol in their system!"
- "Semi-trailers or any other vehicle longer than 40' have the right of way in a roundabout."
- "More police officers are killed as a result of people not obeying the "Move Over" law, than are shot and killed each year!"
- "No Passing farm equipment in a No Passing zone!"
- "Don't swerve for a deer!"
- "Don't use whiteout on your student's 3001 application!"
- "There has been an increase in drugged driving arrests."
- "A motorcycle is allowed to go through a red light if after stopping, waiting for 45 seconds and no traffic is present."
Car crashes are the number one cause of teen deaths in the U.S.
Drivers between the ages of 16 and 19 are four times more likely to die in a crash than drivers between the ages of 25 and 69.
Teens have the highest chance of having a fatal crash within the first six months of getting their driver's license.
2,739 teenagers died in car accidents in the United States during 2008.
5,864 fatal accidents involved teen drivers in 2008. This number is higher than the previous one because the teen driver often has to live with the guilt of causing someone else's death.
Teen drivers were involved in 12% of all fatal crashes reported to the police.
Males are twice as likely as females to be killed in a crash while they're teenagers.
37% of male drivers between the ages of 15 and 20 were speeding at the time of a fatal crash.
55% of teens killed in car crashes weren't using their seat belts.
31% of teens drivers were drinking alcohol at the time of their death.
Teen drivers were involved in 63% of teen passenger deaths and 19% of passenger deaths of all ages in fatal accidents.
53% of teen deaths in fatal accidents occurred on the weekends and 41% occurred between 9 pm and 6 am.
Non- Fatal Accidents: (Source: Sr22 Insurance)
Teen drivers are 10 times more likely to be involved in a crash during their first year of driving.
Teen drivers with more than one teen passenger are twice as likely to be in an accident as a drunk driver.
16-year-olds have more accidents than any other age group – including older teens.
Accidents caused by 15- to 17-year-old drivers caused $34 Billion in damage in the U.S. in 2006.
20% of reported accidents involving teen drivers.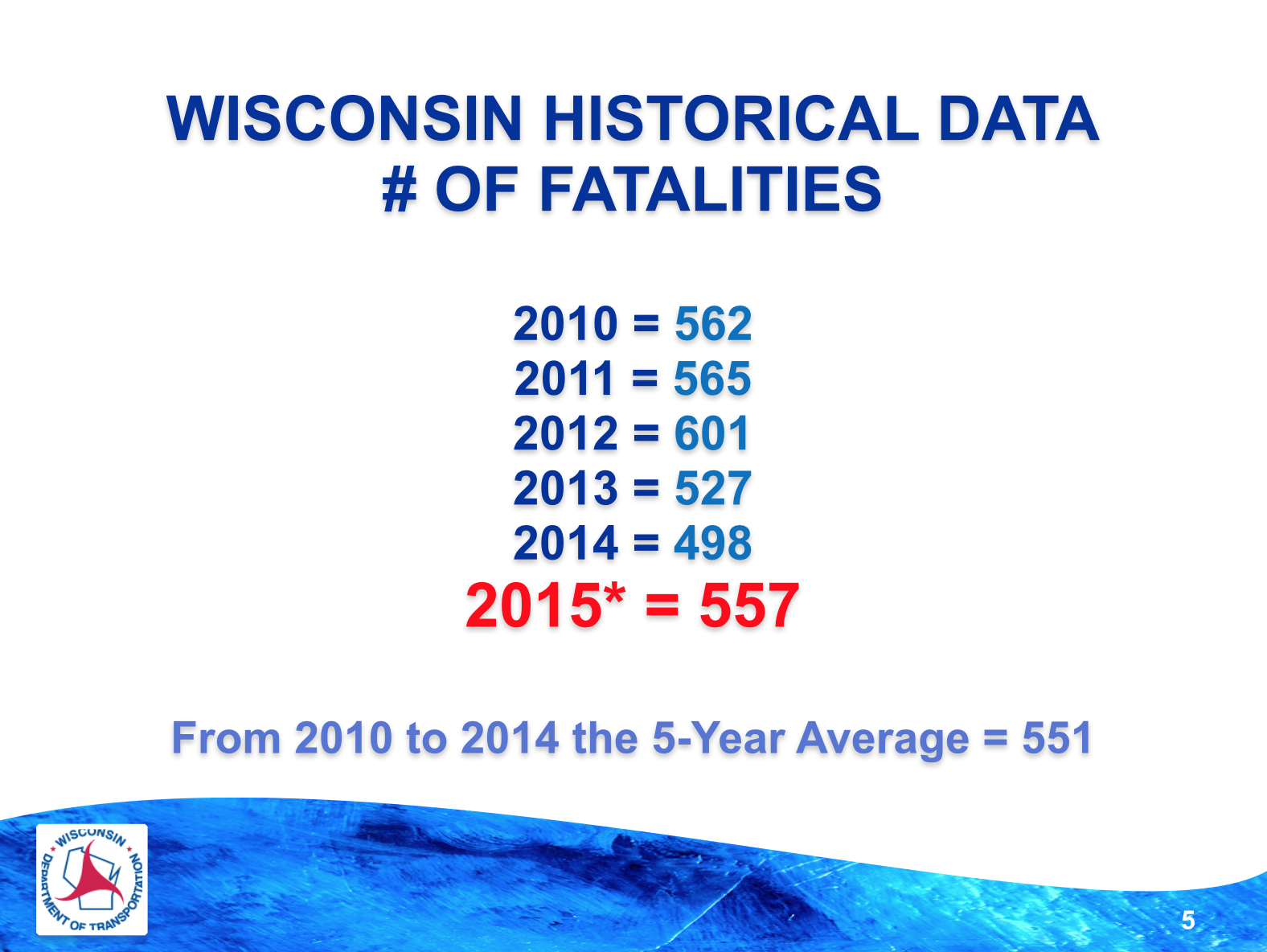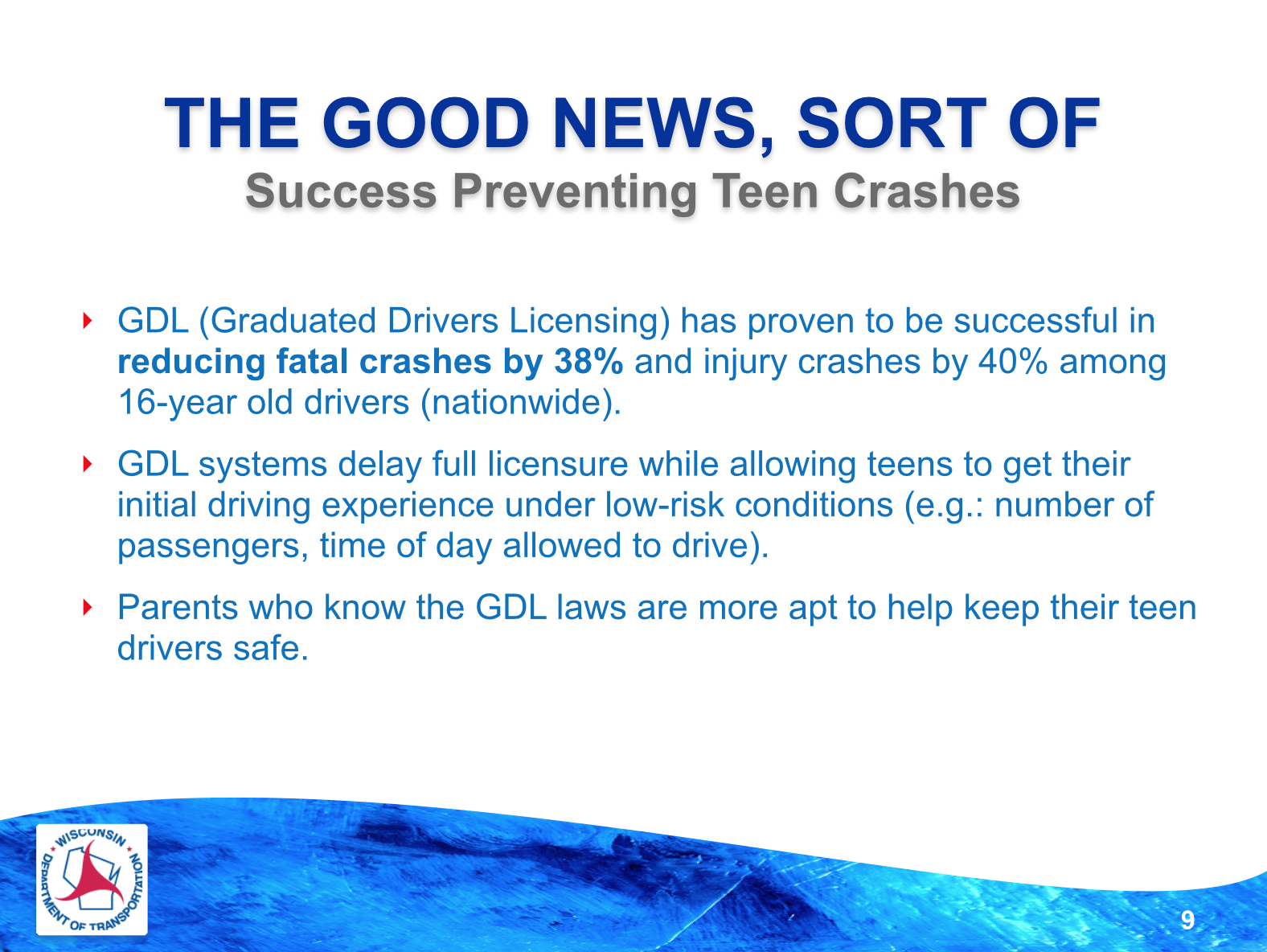 View Mike Panosh's 2016 spring conference presentation about Wisconsin, seat belts, texting, speeding, and aggressive driving.
Also, view Mike's 2015 Legislative Summary about enacted legislation, bills that might become laws, and significant unsuccessful bills.